THE VENTURE INN HOTEL & CONFERENCE VENUE
THE VENTURE INN HOTEL & CONFERENCE VENUE
CONTACT DETAILS
Contact Person:
Kerry-lee
Phone:
039 695 0110

Mobile:
083 271 7439

Fax:
086 612 9580
Address:
Lot 366 Commercial Road, Umtentweni, Port Shepstone, 4235
PO Box 8, Umtentweni, 4235
E-mail:
ventureinn@gmail.com

Location:
Port Shepstone
THE VENTURE INN OFFERS HOTEL ACCOMMODATION WITH CONFERENCE & WEDDING VENUE IN UMTENTWENI, PORT SHEPSTONE
The Venture Inn Hotel offers quaint and affordable accommodation in an Old World hotel building. It is located near the centre of Port Shepstone and a mere 350m from the main swimming beach with lifeguards and shark nets.
The hotel offers 20 rooms and a conference facility. A beautiful fresh water swimming pool is also available for guests to freshen up after a hot day. The resort overlooks the Indian Ocean and we have secure parking on the premises which is monitored 24-hours a day by a security company.
Each of the rooms is simply decorated and contains an electric kettle, TV and private bathroom with free toiletries and all have access to garden views.
It is close to the country club where guests can golf. In the near by area visitors can go fishing, on mountain biking tours, Shark cage diving, Scuba Diving, Snorkelling and partake in all types of water sports.
We are situated 25 minutes north of the Wild Coast Sun Casino, 15 minutes north of the Shelly Shopping Centre, which boasts Ster Kinekor movies and South Coast Mall. Only 20 minutes from Margate and a mere 25 minutes from the spectacular Oribi Gorge Wild Five, which offers hiking, gorge jumping and wild swing across the Oribi Gorge.
For more info on what to do once you arrive, visit www.tourismsouthcoast.co.za or download the KZN South Coast App off your playstore "ExploreKZNSouthCoast"

ACCOMMODATION IN PORT SHEPSTONE
All rooms are set out in our quiet gardens teeming with birdlife. The rooms are comfortable, clean and complete with TV, fan and coffee making facilities. The rooms are serviced daily and all linen, bath towels and soaps are provided.

CONFERENCE FACILITIES IN PORT SHEPSTONE
The Venture Inn not only accommodates vacationers and tourists, but our conference facility can host both small and larger events for various business functions or social gatherings. Our conferencing facilities (boardroom styled) can cater for 25 seated people. These facilities are not however to just conferences/seminars/meetings. We also take bookings for weddings, Birthday Parties, Funerals, Graduations and similarly typed occasions.

ACTIVITIES IN PORT SHEPSTONE
The local area provides adventurous opportunities for shark cage diving, fishing (permit required), mountain biking, scuba diving, snorkeling and mountain bike riding to name a few. The Venture Inn also has facilities for billiards, table tennis and darts. Port Shepstone Country Club offers a golf course just 2 km from the Venture Inn Hotel and Conferencing Estate. Free private parking is available on-site. Whether guests want to enjoy a peaceful and relaxing stroll on the beach or yoga class or be more adventurous and enjoy many of the exhilarating water activities, The Venture Inn and its surrounding areas will accommodate you. [READ MORE]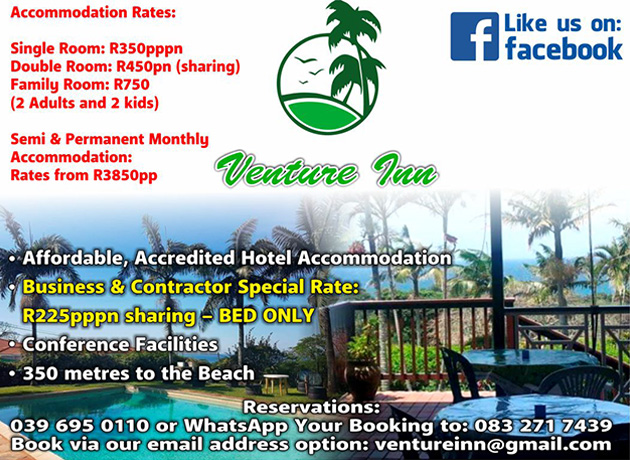 Follow us on Facebook
TripAdvisor
THE VENTURE INN HOTEL & CONFERENCE VENUE
CONTACT DETAILS
Contact Person:
Kerry-lee
Phone:
039 695 0110

Mobile:
083 271 7439

Fax:
086 612 9580
Address:
Lot 366 Commercial Road, Umtentweni, Port Shepstone, 4235
PO Box 8, Umtentweni, 4235
E-mail:
ventureinn@gmail.com

Location:
Port Shepstone